"Hooray for You" Exhibition to Open at 100 Bogart
Brooklyn, NY: HOORAY FOR YOU – New show opening this Friday, September 22nd, at 100 Bogart in Bushwick. Featuring 16 works by Brooklyn-based artist Caleb Freese, the mixed-media pieces are a combination of printmaking, fabric dye painting, and architectural & topographical technical line drawings.
Filled with detail as well as bold, dynamic, colorful paint strokes, the pieces showcase the tension and interweaving of city and nature by playing on detailed city planning as well as classic nature drawings.
The theme of the show is based on a quote from 1991 documentary Paris is Burning;
"I always had hopes of being a big star. But as you get older, you aim a little lower. Everybody wants to make an impression, some mark upon the world. Then you think, you've made a mark on the world if you just get through it, and a few people remember your name. Then you've left a mark. You don't have to bend the whole world. I think it's better to just enjoy it. Pay your dues, and just enjoy it. If you shoot a arrow and it goes real high, hooray for you."
Artist Caleb Freese is well known for his multi-layered, large scale installations and murals, including an AIA award-winning mural. Despite being large-scale, his pieces still often have a foot in traditional print media, combining hand drawing and hand silk-screening. His work is often driven by his belief in the necessity of preservation of nature as well as re-imagining our cities; and his own conflict between his desire for wilderness and his love for city life.
The show Hooray for You will run through October 18th, with a closing party on the 18th.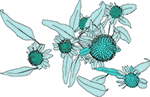 It's been a while, I shouldn't have left you without some dope artwork to step to.